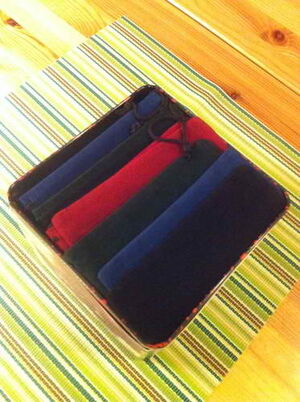 The Dice Bags are an essential component to the game of Quarriors! This game is a dice-building game, a deck-building game with dice. Therefore, when you "draw" you dice, you can't pick and choose, you draw at random.
How to solve this problem? 4 different colored (for each player) soft quality dice bags to draw from, offering a good "shuffle" and shaker for the dice and random variation to the game!
The dice bags come in 4 colors: Red, Blue, Green and Black. They are made of the finest cotton and each have drawstrings so that your "shuffle" doesn't send dice flying!
Ad blocker interference detected!
Wikia is a free-to-use site that makes money from advertising. We have a modified experience for viewers using ad blockers

Wikia is not accessible if you've made further modifications. Remove the custom ad blocker rule(s) and the page will load as expected.