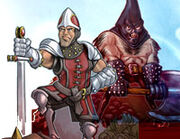 Here is the complete list of Quarriors! Creatures: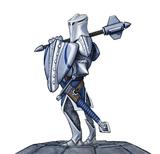 -Ancient Guide (QA)
-Deathdealer (BG/RD)
-Defender of the Pale (BG/RD)
-Demonic Overlord (RD)
-Devotee of the Holy Query (BG/RD)
-Frost Howler (QQ)
-Ghostly Spirit (BG/RD)
-Ghosts of Christmas (XP)
-Gnome Barbarian (QM)
-Heavenly Seraph (QM)
-Knight of Quamelot (QA)
-Lord of the Quarry (QM)
-Manxome Minotaur (QA)
-Mischievous Imp (QM)
-Pink Eye Cyclops (QQ)
-Poison Dart Frog (QQ)
-Primordial Ooze (BG/RD)
-Qladiator (QQ)
-Quake Dragon (BG/QP/RD)
-Quake Dragon Mystic (QQ)
-Quaxos' Eye (QQ)
-Questing Wizard (BG/RD)
-Scavenging Goblin (BG/QP/RD)
-Swarming Pixies (QA)
-Troll Behemoth (QM)
-Voodoo Doll (QM)
-War Pegasus (QA)
-Warrior of the Quay (BG/QP/RD)
-Witching Hag (BG/RD)
Ad blocker interference detected!
Wikia is a free-to-use site that makes money from advertising. We have a modified experience for viewers using ad blockers

Wikia is not accessible if you've made further modifications. Remove the custom ad blocker rule(s) and the page will load as expected.