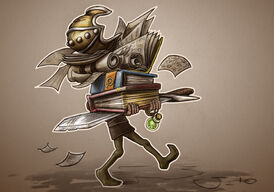 The Assistant is a Basic Creature. Each player starts the game with four Assistants. The Assistant provides players with a simple ability and an easy-to-summon Creature from the start of the game.
An Assistant die has 3 +1 Quiddity faces, 1 Immediate Effect face, and 2 Creature faces (the pawn).

Assistant

| | |
| --- | --- |
| Cost | 1 |
| Glory | 1 |
| Description | |
| * Burst | Immediate: Re-roll this die and one other die. |
In Quarriors: Light vs Dark, three new Assistant cards were added, each providing a different simple ability, along with new Assistant dice that can produce light and dark Quiddity in addition to basic Quiddity.
Ad blocker interference detected!
Wikia is a free-to-use site that makes money from advertising. We have a modified experience for viewers using ad blockers

Wikia is not accessible if you've made further modifications. Remove the custom ad blocker rule(s) and the page will load as expected.